07 May 2004 ::: Check out my Blog for Family News!
22 March 2004 ::: Home from Disney
Well I hate to admit it, but we are back from Florida today. It was our first long trip in the Motor Home and it ran very well. I did overheat the breaks in Florida right after we left Fort Wilderness. I have to stop driving it like a sports car :-)
12 March 2004 ::: Disney World Bound Today!
Enough said :-)
09 February 2004 ::: CCW Permits in Today!
After all of the training, and waiting, the Sheriff's Department finally told us our permits are in, nothing like having to beg for permission to exercise one of our constitutional rights.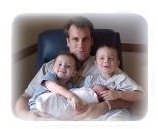 I am a Systems Administrator from the Metro Detroit area.
I have been happily married for 13 years, and have three precocious children to show for it. In addition to my interests listed above, I am also an aviation buff, a World War I & II buff, a former cyclist and firefighter, and I have been known to go scuba diving from time to time.
I have worked for the same company over the last 10 years. When I hired on we were using Netware 3.11 on our servers and Windows 3.1 on our desktops. Sometimes it just amazes me how far we have come since then. We flirted with Windows NT for a time, but the instabilities led us to stay with Netware. As the company moved away from it role as a typical Management Firm to one as a Data Management Firm, our internet presence became the focus. Knowing Windows had reliability issues, we moved most of our computing environment to UNIX (Solaris), and Linux. Our first UNIX system was installed in 1996, we now use seven UNIX systems to support the company operations.